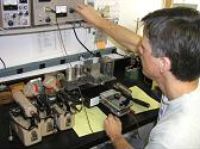 Our factory-trained technicians provide outstanding calibration and repair services for radiological instruments.
FREE Reminder Service.
Contact Kurt Newton at 860-228-0721, or email at calibrations@radpro.com.
Services include:
Complete calibration services for instruments of all kinds

Portable exposure rate and count rate instruments (any brand or model)

Instruments calibrated to Cs-137. Other isotopes available on request

Clear, fully-documented calibration certificates

On-site calibration service available

Complete instrument repair facility; factory-trained technicians

Decontamination service for detectors and instruments
Turn-around time is 3 business days! (Rush service available at an additional charge.)
NRC License No. 06-30007-01 — Connecticut Public Health Laboratory License No. PH-0111
Calibration Price List
Survey Meters–Count Rate
Includes up to four scales with one detector.
Efficiency determined for virtually any isotopes you specify.
$70.00
Survey Meters–Exposure Rate
Includes up to four scales with one detector.
Calibrated to 137Cesium.
$70.00
Each Additional Scale
(after first four)
$10.00
Each Additional Detector
$30.00
Counter/Scalers
$85.00
Single-Channel Analyzers
$85.00
Electronic Dosimeters
$60.00
Alarming Ratemeters
$50.00
Quartz-Fiber Pocket Dosimeters
$15.00
Repair/Troubleshooting/Decontamination (per hour)
(plus parts)
$100.00
Air Samplers/Flow Meters
$70.00
Efficiency for iodine-in-neck phantom at no additional charge.

Free calibration reminder service provided.

Calibrations meet or exceed guidelines from NRC and ANSI.
When returning meters for calibration, use our Calibration Return Form.